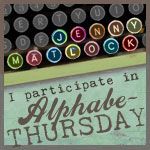 I am playing along with Jenny Matlock's
Alphabe-Thursday
today.
These casual jaunts through my neighborhood have opened my eyes to beauty I never knew was there. I 've discovered that I really love metalwork--the curli-qs, the fences, the lights. Who'da thunk these pics were taken in Arizona?
One picture was taken in my yard. Can you guess which one it is?
I know that Heidi reads my blog, but she rarely comments. I wonder if this next picture could tempt her out of hiding to share the "hugging the Statue of Liberty" story.
We used to give directions to our house like this:
"Turn right on Hackamore, drive past the Statue of Liberty, take your second left . . ."
"Drive past WHAT?"
"You heard me. The Statue of Liberty. You'll know when you see it."
I had to use this
Q
day to pay special tribute to the queen of meme, Miss Jenny Matlock herself. She eschews blog awards and refuses to participate in them. But I know that she takes the time to read each link on her posts. And answer them. And comment on them. Not only is she kind and creative, she truly has the kindest bloggers participating in her prompts. I got more comments and new blogs to follow from just one time participating in Alphabe-Thursday than I have anywhere else. And, as a friend of mine said once, "Kind is different from nice."
Thanks, Miss Jenny. Here's a coronation comment:
You rock. Thanks for all you do to make the blogosphere kind and fun!