This picture is the antithesis of this post. Beware.
I don't usually wax political here at the Sanatorium. But I just can't let this fester.
What has happened? None of our public servants serve in their public offices to serve the people. They now serve to serve themselves. The title should change from public servant to public speaker, since that's about all they do. Black, white, Republican, Democrat--it's non-partisan and non-racial. Their entire goal is to be re-elected. Not entirely--they want to be re-elected and "please don't let the ship sink on my watch."
Yesterday Arizona overwhelmingly voted to pass a one-cent sales tax increase to mostly fund public safety and education. I'm not deluding myself into thinking that all the recipients of these funds are listed on the website. But I'm sure the money collected will stem the tide of financial implosion for a little while, at least.
Unfortunately, I don't think it will solve any of our state's problems long-term. A cork has been found to plug the hole in the dike, but the dike is already bulging and the pressure behind it is increasing. The same can be said on the federal level. Ideas are passed without the cash to back them. None of our officials want to be the unpopular one to mark programs or facilities for the guillotine. But something's gotta give, or the whole structure is doomed.
Why can't we cut all-day kindergarten to save $10 million?
Why do we need to widen more freeways?
Why did we need to cut the public library's hours, but we still found enough funds to repaint it?
I'm an underinformed citizen, to be sure. But surely someone somewhere crunches these numbers and sees what I see, and more? Doesn't anyone have the courage to say, "We just don't have the money for that?" And then do away with it? Doesn't anyone have the
cajones
to stand up and say NO!
I've had to tighten the purse strings at my house. I bet you have, too. Why are our public officials still trying to support enormous projects without financial support? Where will this lead? Will we have another crisis like the banking fiasco? Or the auto industry? Or the state of California? What will be next?
Isn't there anyone left in public service with a drop of common sense? If there is, I'd like to talk to them. Because, quite frankly, I don't have the time to run for office yet. I still have too many kids at home that need me. But watch out. I may be heading there, because common sense is something I've got in spades.
This rant and rave is brought to you today by the letter R. Political opinions are that of the author only, no reflection on Mrs. Jenny (unless, of course, she agrees with me).
Thank you.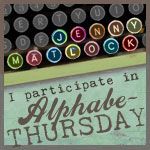 I will now retire my soapbox and return you to your regularly scheduled mommy blog entries.