First of all, I must admit to a little bit of surprise when
Kristin at My Uncommon Slice of Suburbia
told me she was featuring my laundry room on her blog today! Thanks, Kristin, and anyone here visiting.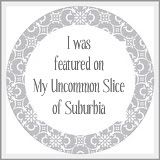 Next, I hope you've been thinking of someone who changed your life and that you're prepared to link up to today's post. You can read my original post
here
.
Finally, here's my thank-you post.
My Friend Marva
She led me by example
--God and family are first and they deserve the best we have to offer.
She taught my children
--and her service in the nursery at Church taught me that no calling is small or unimportant.
She instructed me
--I sat at her feet and learned and studied and pondered.
She gave me opportunities to teach
--and those times revealed a passion for understanding doctrine that I never knew I had.
She mourned with me
--I'll never forget when she showed up unannounced at my door when I lost my baby. It had been a few days, and people had been in and out. I opened the door, and she stood there silent for a moment. Then she almost whispered, "I'm so sorry I haven't been over sooner. I don't know what to say." But she came anyway.
She showed me how to include others
--everyone needs a friend, and anyone can be that friend.
She sat with me

--
when I was confined to bed for months on end, she'd pull up a chair and sit and talk, no matter how busy she was.
She illustrated how to serve others with grace and acceptance
--and showed me I have miles to go.
She motivated me
--I would often subconsciously ask myself how she would act in a situation, then I would follow her lead.
Adult me has always lived far from my family.
Since I can't live close to my mom, I count my lucky stars that I lived close to Marva. And now she's off serving full-time in Idaho. But I still feel blessed to call her my dear friend.
Linking up to
Follow Friday Forty and Over
at Never Growing Old.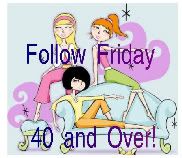 Link your gratitude posts here, or if you'd just like to leave your thanks in a comment, feel free.