I've found a new bloggy friend. We've only been acquainted for less than a week, but I already like her approach to life and blogging.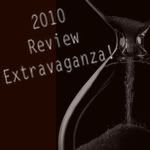 Emmy Mom is holding a linky party for the next four Fridays--review the year in four successive Friday posts. Read about it
here.
Many if not most of you haven't read my blog for this entire calendar year, so I thought I'd participate, just for fun! And I'm sure she'd love to have you join in, if you're so inclined.
January brought
this entry
about a blanket, a baby, and a funeral--and my goal for 2010--make everyday count. As I look back on the year, I kind of lost sight of this as my goal throughout the year, but I think I've done a lot better appreciating those little things that happen daily.
January also brought
the hilarious retelling of our family picture misadventure
and my best glamour shot ever.
And my first public admission that I have a
boot addiction.
An addiction for which I will not apologize nor will I forsake.
February came, and so did
my famous $1 garage sale
(yes, everything was $1),
a completely unwasted day
that I'd forgotten, and Heidi's
engagement pictures
and bridal shower. So too, did my knowledge on how to enlarge my pictures on my blog. Photography at the Sanatorium would never be the same again. Thanks, Sarah at Clover Lane.
March. Wow. I did a series of posts on milestones in my kids' and my life (
Evie
and
Micah
and
Hyrum
and
Ben
and
Lily
and
Heidi
and
Tucker
and
Brad
, and
even bemoaning my own midlife crisis
).
I tried my hand at
a writer's workshop
, didn't love it, but found a great bloggy friend (Hi, Paige!) in exchange.
I had one of
my favorite moments ever
, recorded before it faded from memory.
And I also discovered who I truly am--
Jane Jetson
.
If I were to pinpoint any moment in my blogging history that was pivotal, it would be March. That's when I really felt like I found my voice--no longer trying to imitate others or sound smart or political or funny or perfect. That's when I let my blog be me.
This was such a fun exercise. I can't wait to complete the rest of the year, since April-June were the biggest changes in my adult life, that's for sure.
And if you want to come back here on Monday, you can join our linky party of favorite Christmas baking traditions!