Part three of the Review Extravaganza--
July was a month of firsts
I became a mechanic--
I changed my first flat tire
.
I attended the blessing of
my first granddaughter
.
Micah had his first CAT scan
--this was the scariest day of 2011, by far.
And we got
our first call
from the mission field as Tucker left for NYC. This photo makes me giddy, because we get to talk to him in TWO DAYS. We are all looking forward to his call more than presents!
Lily finished teaching me
my greatest lesson of 2011
when she threw a reverse dive she knew she couldn't complete, and she still finished second in the competition. I will never forget this. Ever. And
Ben faced his own demon
--trypanophobia.
Lily and the gum wall in Seattle--one of my favorite photos of the year.
At Girls' Camp, I was reminded that
you just never know
when you make a difference in someone's life.
I shared
my favorite back-to-school tradition
, and then it was time for school, already?
Summer 2011 taught me a few things--
enjoy my crazy kids
,
putter with the lights down low
,
read the classics
(we are currently close to finishing
The Silver Chair
), and most importantly--
it doesn't matter
if everything on your list gets checked off.
August ended with
FOOTBALL
and too many kids in my tub!
Brubakers came for a week, and we all feasted on the baby.
Before they came, I updated the guest room:
shadow boxes
,
my grandma's friendship quilt
, and
those cursed but gorgeous curtains
.
I recapped
my first few months as a missionary's mom
, and
I wasted the best light ever
but harvested some great photography tips--thanks!
Lily left a trail of hearts for Ben
--a rare day that I wanted to remember.
My last post in September was an answer to a question I'd been pondering for a while--
why I blog
. I'm just me, the head administrator here at the Sanatorium, and I'm satisfied with that.
If you'd like to join in on the fun, click the button below.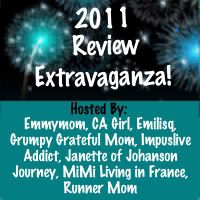 Happy Christmas Adam to you all!
What? You don't celebrate Christmas Adam? Why, Christmas Adam is the day before Christmas Eve!