Thanks to all the lovely ladies from the 2011 Review Extravaganza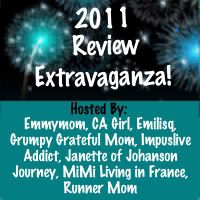 Gift cards to Starbuck's and Barnes and Noble
Chocolate in various forms
Valentine's decorations
Notepads
Favorite beauty products plus a little bling
Picture holder and measuring cups
and two of Emmymom's beautifully hand painted Christmas ornaments
I was filled with excitement when each package arrived--so happy to see what was inside.
So happy, in fact, that I've decided to host a gift exchange for February--then I can share the joy with all of you!
If you would like to be involved in a February gift swap (send one gift/receive one gift), email me your address (jenny.denton@cox.net), and I'll add you to the list.
Thanks again, ladies. It is a pleasure to know each of you.