Still haven't figured out Lightroom--maybe I'll have a little more time tomorrow. I just wish that I could still use Picasa in the meantime. Sigh. So here are more unedited pictures.
I'm sick of clutter. Today I took down most of my tchotchkes . . .
Shelves in kitchen and family room are mostly bare . . .
Funny thing, this emptiness . . .
. . .side tables disappearing, photos missing . . .
. . . a few lonely lamps and empty baskets . . .
. . . notice the vacant mantel and table and ottoman (and Sue's quilt!) . . .
All that emptiness is filling me with joy. I don't know if all that stuff will ever make it back into the house.
Linking up to Jenny Malock's G for Alphabe-Thursday.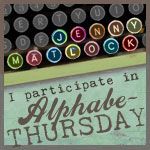 Hope I have a few hours to dig into Lightroom. Kara? When you free?