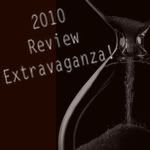 My final Review Extravaganza. I'm glad I found a few minutes to actually sit at the computer today. I've been holed up in the house, surrounded by all my chickens, playing games, attending a heartbreaking funeral, refereeing arguments, waiting for wisdom teeth to be pulled, making food, decluttering from Christmas, medicating for Valley Fever (Roxy) and bronchitis (Ben), helping a dear friend move, and enjoying every second with everyone here. I'm never happier than I am when everyone's home and I can
micromanage
love them all in the same room.
October 1, 2010
The best day of the year
--nine hours completely to myself. It was spectacular.
I got to have lunch with Katie and her girls and meet her mom, Karen, one of my blogging buddies.
Heidi's
big news hit the blogosphere
.
I posted a real day
and challenged others to join the revolution. Thirty people linked up. I was thrilled.
And I reflected on my struggles of late--
time management and professional mothering
. Update--still struggling.
My two-year blogiversary. A giveaway.
A linky post about
family size
. I loved reading all of your stories. Some made me laugh. Others made me cry. I enjoyed every one.
I did a series of posts on gratitude--
here
and
here
and
here
.
And my first of four Christmas traditions--
Black Friday
with my bestie.
One of the sparsest posting months of the year. It feels like not much happened around here, as I scurried to and fro feathering the nest with Christmas cheer.
I showcased Brad's
handiwork.
I shared pictures of
a beautiful AZ fall.
I
overstepped and chewed out a child's teacher
. Still don't regret it.
And I shared my newest love--
lime gum.
MMMMM.
As I reflect on my life and the changes this year, I see growth. And that makes me happy. I've been thinking and thinking and thinking about how to orient my wagon for this next year, and looking back on where I've been (weddings, graduations, mothering highs and lows) and looking to where I'm headed (new babies, grandmothering, Tucker leaving for a mission) gives me a hint which direction to go.
Thanks, 2010. You stretched me more than any other single year of my life.
Here's to a great 2011.
Hoping I'll be back to regular blogging on Monday. Tucker and Heidi fly out Sunday morning. I love every second we're all together. But it's going to take some digging out to get back to normal around here.