Remember my reality post? When I shamefully disclosed the status of this closet? Ouch. I vowed to clean it. I had it all planned in my head. I would clean it out, go buy a few metal shelves, and voila. More organization.
Here it is in its half-clean state. The filing cabinet was full of pictures and frames and decorating stuff, so that was useful space, right?
I proposed the idea to Brad, and he said, "I can just make you a few shelves, no problem."
Remember when I posted this picture?
And it was finished in a few short hours.
This is what it looks like now:
"I'm in love, I'm in love, I'm in love, with a wonderful guy!"
So much better. Isn't it
j
ust awesome?
Now it's easy to find all the "tchotchkes" that I rotate in and around my house. Need white napkins? Top drawer on the bottom right. Where's my easel for Institute? See it right there, front left? What about a vase? Right middle. Candles and candlesticks? Got them for you! I played a little musical chairs with the cupboards in the library as well. Now one is full of frames and pictures and easels, and another holds plants and pots. It sounds like it's a lot of stuff, but I rotate it frequently, purge even more frequently, and I only keep the things I love. The new layout came in so handy when I was setting up for Christmas. I had places for all the "resting" stuff, and I could find just what I needed to trim out my house for the holidays.
Ben has dubbed it
The Official Tchotchke Closet.
I wish I had vinyl letters to crown it so on the door. I would so do it. But my label-maker doesn't print that big, and I don't really know how to use my Cri-cut.
Brought to you by me,
J
en, and
the letter

J

from Alphabe-Thursday
.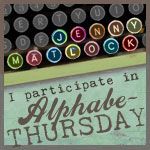 And remember, Monday will be the second installment of Christmas traditions. Last Monday, I divulged all my Black Friday secrets. This Monday, it's holiday decorating. If you'd like to link up, stop back by and leave a link to your post featuring your family's decorating traditions--Advent, trees, lights, whatever. We all want to see and share the jolly spirit!