Sometimes I just get sick of stuff.
For example, I've been tired of my bed linen for . . . about a year now. I did spend much of 2009 in that bed, waiting out Evie's delivery, so I had plenty of time to see it and be tired of it.
Here's the before shot:
I also have this cheap streak that runs through me, and I was hesitant to replace something that was still fully functional and not damaged in any way. And I knew how much it could cost to replace all that bed linen, pillows, accessories, etc.
I cleaned out my bathroom linen cupboard last week, and I happened upon a white matelasse bed skirt that I'd bought eons ago. So, on Saturday morning, I decided to dismantle the bed to change out the bed skirt. I hate that job. While I was at it, I vacuumed the baseboard and frame, removed the box springs and vacuumed the carpet under the bed. Then, I replaced the bed skirt.
Dangerous territory. Now I wanted to redo the whole she-bang.
So I headed to Target "just to see." More dangerous territory.
But I was so happy with what I found! Here's a few shots of "after":
Less than $80. My Christmas money from my father-in-law well spent. Here's a breakdown of the change:
Three new throw pillows for the bed: each less than $20.
"Bedspread" at the foot of the bed: This was my best idea. We stayed in a hotel in Chicago last summer that used one width of fabric across the foot of the bed to imitate a folded-down bedspread. I found the 95" drapery panel on clearance for $18.14, and it works perfectly. This is AZ. How often did I really use that big duvet? Maybe three weeks a year.
I'm so happy. It makes the crazy-striped chairs look purposeful. Plus, I eliminated an entire row of throw pillows from the bed. And I love the textures of these new ones.
Sigh. Yet another reason why I love Target.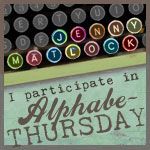 Linking up to the letter N at
Alphabe-Thursday with Jenny Matlock.