In tribute to Jenny Matlock's D post this week . . .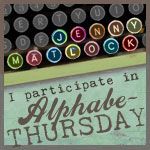 What did I do this last week? Hmmmm. Let's see.
Dishes
--I renewed my appreciation for a dishwasher that's not me
Decorated and organized
--hung pictures, rearranged furniture, organized cupboards. Sigh. So rewarding
Dined with the locals
--Tauna from Garden of Egan took me to lunch at Big Jud's (photo from her blog--read it here). That place has great food, and it's hilarious! A six-pound burger? Yep. It's real. Nope, I had a small quarter pounder--and it kept me full the rest of the day. Not only that, she also brought dinner for Heidi and her family, since she felt like family after dropping in on them at the hospital where Heidi delivered (and where Tauna coincidentally works). Thanks, Tauna, for everything.
Designed a car seat cover-
-Heidi wanted one of these, and we figured it out. Cute, huh?
I love the flowers we picked for the reverse side. Aren't they darling?
Drove around Rexburg, seeing the sights
--New BYU-I center is astonishing, and they're demolishing some older homes to make room for more student housing. Made me a little sad to see those cute old houses in rubble. We also drove to Idaho Falls for diapers, wipes and formula at Sam's Club. That was about as much adventure as Heidi could handle.
Digitized images of the new little family
--come back tomorrow.
And most importantly . . .
Doted on my daughter's daughter
I got to stay up late with Ellie every night while Heidi and Sam slept. It was precious.
Now I'm home for another crazy week. Can't find my keys, the top part of my wreath stand is mysteriously gone, and Tucker leaves in six days.
It's all worth it, especially when I hear this:
Mom: "Hyrum, I missed your smooches."
Hyrum: "I missed your whole thing about you--even light saber fightin'."
It's good to be home.