I had a post in my head, all ready to compose for today. But it will have to wait.
Unrelated, but isn't he full of mischief?
What is the blogger's etiquette in the following scenario:
Tucker, Eve, and I were doing a little "get-ready-for-college" shopping at the local mall. I never go to the mall. Hassle. People. Expense. But some situations warrant the nightmare. I glanced up, and I thought I recognized the young mother with a toddler and a baby in a stroller. Where did I know her from? As we got closer, I knew exactly where: I read her blog. She doesn't really know me, aside from a few comments of admiration, and as far as I know, she's never visited my blog and has no idea I even exist. Not that I was starstruck. I don't really get like that. I was just unsure of my responsibility. All of these thoughts were processed in, oh, maybe five seconds.
As we got closer, her toddler son walked in front of my stroller, and she caught his arm and pulled him back, saying, not unkindly, "You need to be careful. Look, you walked right in front of that baby." I actually stopped, said, "Oh, that's okay, do you want to see the baby? Look, she has the same shorts as your sister." And we proceeded on our way.
It is very unclear to me what was my obligation in this situation. Should I reveal myself as a reader of her blog? Would she think I was a stalker, a weirdo, or just an interested fellow blogger? Would she be flattered? Surprised? Annnoyed?
I rarely have a situation where I look back on it and wish I'd reacted a little faster or known what to say, but in retrospect, I think I should have said something. Now if it had been one of my regular readers who comments occasionally, I would have been excited to meet you in the flesh. Bought you a pretzel, had a Diet Pepsi and a chat. But this is someone who is really unfamiliar with me.
What would you have done? Should I send her a link to this post and say, "Hi, that was me!"?
And who is going to get around to writing blogging rules and etiquette? Because I think I need to download the book.
Linking up to
Alphabe-Thursday.
My Uncertainty brought to you by the letter U.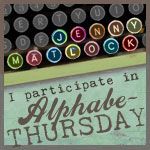 And if you have missed entering my giveaway,
click here.
Comments taken until Sunday night!
post-edit: I just went to Lyndsay's blog and sent her the link. Thanks for the advice.