He did it again!
City wrestling meet is Saturday, and Ben heads in 9-1. Why does this all make me hold my breath? Can't wait!
Plus, a linky post preview:
I've been thinking about this, and I want to do a link-up post on Tuesday.
We as women are bombarded with images of what perfection should look like. And, if you're anything like me, it doesn't appear when looking in the mirror.
I spent a good ten minutes staring in the mirror, trying to look past all the flaws and imperfections and issues I wrestle with every day. I wanted to really SEE myself. It took me close to five minutes to decide on one facial feature that I consider quite beautiful.
Here's the challenge:
Straight after a shower or after you've washed your face, take some time to really look at that woman in the mirror. What do you see that's beautiful? Ignore or re-evaluate those things that have always bugged or challenged you. What is your singular, personal element of beauty? Is it skin, ears, hair? Is it wisdom or humor or understanding in your eyes? We all have one thing that not only makes us individuals. That one thing makes us beautiful. What is yours and why?
Come back on Tuesday to link up. I'll be here.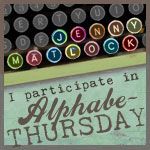 So many Ps today. Linking up to
Jenny Matlock's Alphabe-Thursday.