See? I had this T post all ready a few weeks ago. I hosted a T party for T week for Hyrum and his Joy School friends. Tortillas, tomatoes, tater tots and tangerines, all on my Grandma Tucker's china.
Then today came around. I was really behind on my lesson preparation. I slept in unusually late when I had planned on being up at five. I had visiting teaching to do. And I had planned to take Hyrum and Evie to the zoo with a few friends.
By the time I was leaving to visit, I knew I couldn't possibly go to the zoo and give my lesson material as much attention as it deserves.
9:48 am and I get home from visiting. No way can I sacrifice the morning for the zoo. Then I remember my resolution for 2011--
balance.
Remember?
What would be the best use of my morning--long term?
I may have forgotten my camera, but I passed the test.
Linking my T post up to
Alphabe-Thursday.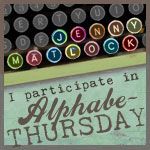 I am planning on being up extremely late tonight. And I couldn't have spent my time better.