Sigh.
I just taught my last class. One huge check off my to-do list.
I'm torn, because I have loved every minute of preparation and teaching. Every single minute.
What I won't miss?
My desk looking like this every single day.
Now I have a few days to regroup. A few days to finish shopping and preparing Tucker for his mission (TWENTY DAYS, PEOPLE!). A few days to pack and organize before Heidi has her baby ( TEN DAYS, PEOPLE!)
A few days to figure out a solution to this:
Any guesses whose name starts with an H? He promises me it wasn't sharpie, but I haven't yet figured out how to get it out of the chair's upholstery. Any suggestions?
When I uploaded this picture, Hyrum was looking over my shoulder. I glowered at him and told him I was still mad at him for doing this last night.
He thought for a second, then he said, "You won't still be mad at me tomorrow." Then he gave me a hug laced with apology.
I'm not mad even now. Buddy.
Linking up to
Jenny Matlock's B at Alphabe-Thursday.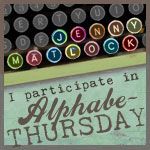 Off for a little blog therapy! Look for me at your place!