I love my bike.
She's nothing fancy. But she'll take me anywhere I want to go.
She's up with me way before dawn, logging anywhere from six to fifteen miles a day.
She accompanied me to Bread Basket to purchase sweets for my visiting teaching ladies. Then she helped me deliver them.
She took me to Americopy to drop off materials for my Thursday morning class.
She pulls Hyrum and Evie in their coach with the greatest of ease.
She's allowed me to change out her tires to a more road-friendly version.
She's also tolerated new pedals. These new pedals and I have a love/hate relationship. I like being clipped in and able to push and pull while I pedal. I don't like it when I fall--tip, might be a better word. I tipped over stopped at a light because I was on the slightest of slopes. I tipped over in the garage because I forgot I was clipped in--lucky for me I was next to the garbage can, or it could have been serious, that one.
I explained my love for her to Brad this way--she's like a horse. She takes me everywhere I couldn't really walk and on these trips I see great things. Not a race horse. More like a mule, I guess--slow and dependable, hard-working and indestructible.
He helped me think of the perfect name for her.
I'd like you to meet
This post is brought to you by the letter B,
Jenny Matlock's Alphabe-Thursday.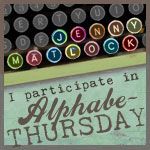 P.S. Update on one of my favorite B's--Ben twisted his ankle during his game last night. Pulled him out, taped him up. We'll have to see how bad it is when he gets home later. Sigh.